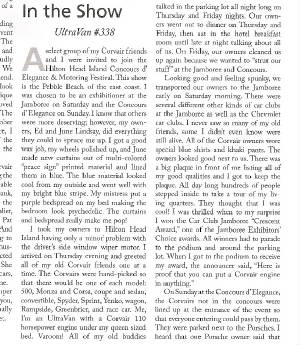 The following article was written by Roxanne Hooper and appeared in the Langley Advance Friday 2 October 2009
Ultra Hippie-Mobile
What's baby blue, made from an airplane fuselage, powered by a six-cylinder Chevy engine, equipped with toilet, garberator, phone and cablevision jacks, and queen-sized bed - and hails from Surrey? It's one of only 200 Ultra Vans still in existence, and self-styled hippie Larry Stphens is excited to call this unique 1967 motorhome his own.
The vehicle identification number for this Ultra Van is 308 - its assembly line number - but owner Larry Stephens said that created a challenge when trying to insure the vehicle.
'Ten, maybe 12 years, I've been after it," said the Newton resident, who finally took possession of the pink slip for his Ultra Van a few years back. "It was my wife's mother's boyfriend's, and I kept asking to bujy it," Stephens said. It hurt, said the car enthusiast, to see it sit idle.
Then, eight years ago, it suffered a fire and was relegated to a back field in Penticton, where it sat, neglected and abandoned, except for the rats and squirrels that were calling it home and chewing at its innards. "The dry rot was something." Stephens explained.
He brought it home about two and a half years ago, finally making a deal with the former owner, that, if he was given the dilapidated 22-foot-long RV for free, Stephens would fix it up and make it available for the occasional Penticton car show. Those terms were acceptable.
Stephens works on installation and maintenance of traffic lights through Cobra Electric, and has spent almost every spare weekend during the past few years working to restore the RV - with the aid of friend Bruce Quigley. "I just like working on old things....And I just love the lines." he said, also enthralled by the RV's history.
The vehicle, nicknamed The Land Whale, is one of about 370 ever made. They retailed, in the day, starting at $7,000 and were created by Boeing aircraft deisnger Dave Peterson, who was perplexed by his own personal dilemma of vacationing with both his trailer and boat, and invented the first motorhome combining an aircraft fuselage with fibreglass front and rear ends.
Light and aerodynamic, straight from the factory, the Ultra Van weighed a measly 2,800 pounds "soaking wet", Stephens said, compared to a current light truck or van that weighs 4,000 to 5,000 lbs. With additions and modifications Stephens has made, he believes it now weighs in at about 3,200 lbs.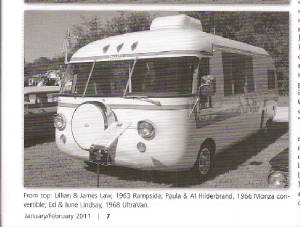 "In The Show" is a write up in Corsa Communique (Jan/Feb 2011)
of Ed & June Lindsay's Ultra Van 338
- winner of Car Club Jamboree "Crescent Award" -
at the Hilton Head Island Concours de'Elegance and Motoring Festival
in South Carolina in November 2010.
He tried to keep it as original as possible, but said that hasn't always been possible, since replacement parts are hard to come by.
It still has three 30-gallon water tanks, the stove, oven, fridge, sink, shower, toilet, and plexi-glass windows, some of the original interior paneling, and most importantly, the Chevrolet-produced Corvair aluminum air-cooled 140-horsepower engine, hidden under the bed in the back, coupled with a two-speed PowerGlide transmission which was seen to be leaking on its last run.
Thus far, Stephens has invested about $8,000 into the machine. Although it's roadworthy, he said there's still much work to do. "Bar none, it's not finished, but it's drivable." Stephens said.
As for what's still to come, Stephens is insistent on changing out the exterior colour. He's not a fan of the baby blue with orca whales painted on both sides. "It looks like W"alt Disney puked on it." he said. Not yet sure what colour he'll pick, he noted the originalUltra Van colour was white. "You could get any colour you like, as long as it's white," he joked.
Stephens has received alot of offers on for his Ultra Van, but insists he won't be selling it.
He rolled it out for its first car show in Penticton two years ago, and since then it has had to be refiftted with a new engine, in time for this year's Langley Good times Cruise-In drive-in and car show last month.
Weather permitting, he's hoping to take it out camping at least once before the snow flies, and he has to return it to the garage for a winter of work that will include changing out the toilet and water tanks.