Leo & Betsy's Ultra 293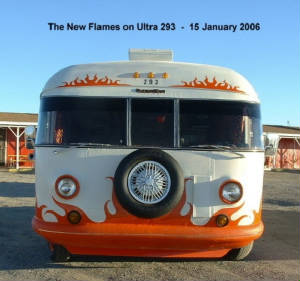 Leo & Betsy's Ultra 293 - Flame Interior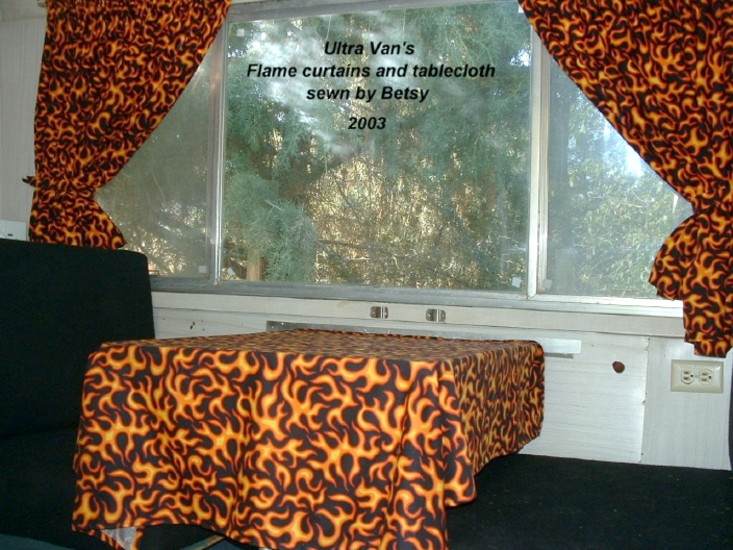 And that old standing joke about Ultras being so wide they knock over mail boxes? - it's true! The very first day driving it home, Leo knocked over a mail box - really sent it a'flyin !

My father (Tom Allison, Indianapolis, IN) still has his 386. It got crunched by the barn it was in....but is still sitting here on the property. Great little camper. We restored it inside and out years ago...but alas...it's squashed in the middle. We had a rally here in our yard years ago...in the late 70's or early 80's. I thought about trying to drag ours out and getting it going again. Just add it to my list. Great site...keep up the good work. Signed, Greg Allison
Ultra 293 has less than 60,000 original miles, a 110-hp block, 95 hp heads, .030-over pistons, 164 cubic inch air-cooled 6-cylinder Corvair engine, powerglide tranny, 3.89:1 positraction differential.
Ultra 293 is fully self-contained: toilet, shower, water heater, furnace, evap cooler, slide-out room air-conditioner, 3-way refrigerator, microwave, range & oven, slide-out 3000-watt generator, TV, VCR & DVD.
We purchased 293 in 2003 right here in Kingman, Arizona - full of 1950's camping gear - for only $2000. Its 102 had a burnt valve, so Leo put in the current 110. He also replaced the holding tank with a separate shower tank and a separate black-water tank made of ABS. He installed a tranny oil cooler, an engine oil cooler, reversed manifolds to go straight out, installed cooling fans, Isolated the propane tank in a sealed steel container, put in 3 Group #27 deep-cycle batteries, designed a slide-out 3000-watt generator and a slide-out window mount air-conditioner and a roof evap cooler, installed a drivers bucket-seat and passenger seat slides enabling passenger seat to be reversed to face backwards, & put on a bag-awning.
Betsy designed and painted the flames and sewed the flame curtains, table cloth, litter bags, bedspread and pillow cases.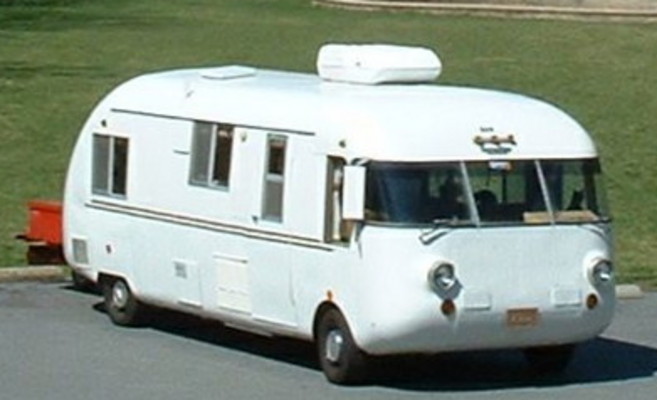 Beau now has 109,787 miles on his odometer. Beau has been a visitor to all states but Hawaii, Alaska and North Dakota....and has visited all Canadian provinces, except for the Maritimes. Jim and Roy Davis
Jon Crisman has owned 482 (Tubby) for a little over 2 years - and is in the final stages of a total restoration. He's hoping to be finished sometime this summer - and will then have new pictures and a list of all the work and upgrades that have been done.
Jon is a member of the Ultra Van Club, CORSA and the editor of The Connection which is the publication for Iowa Corvair Enthusiasts.

BEAU, ULTRA 388 - rolled off the Hutchinson Kansas line in March 1968, but he wasn't sold until April 29, 1969. I'm not sure why he remained at the plant so long. The original owner was Dr John Morrison Stephens of Charlotte, NC. He then sold Beau to Cecil A Flowers of Lincolnton, NC on Nov 10, 1988. We bought Beau on March 24, 2000.
Beau was sold well-equipped with some $1800 of extras - and had only 24,489 original miles on him at our purchase in March 2000. We know the exact mileage because NC requires a safety inspection every year, and the mileage is recorded on the inspection certificate...we still have most of the certificates.