Disc Brakes:
Leo put Disc Brakes on our Ultra 293.....great braking power now!
1 - DELUX KIT # 910-31958 (rotars, calipers, bearings, seals, pads, brackets and hardware) $ 239.99
2 BANJO BOLTS # 6172922 7/16" X 20" $6.99 Each (need 2)
1 PAIR RUBBER FRONT BRAKE HOSES # 617-8568 $19.99 Pair
1 SET OF 5 CRUSH WASHERS for BANJO BOLTS # 617-3513 $3.99 For Set
Remove the metal lines to front brakes that are in Ultra now (which are close to 40" long)...these won't match up with the banjo bolts and are probably plugged up with crap anyways....
You'll also have to buy 2 new metal universal brake lines to use as extensions to the rubber brake hoses.
Our 14" wheels clear just fine...and our original 14" wheels that came with our Ultra (which are Greenbrier wheels) cleared just fine too. The new catalog says 14" wheels won't fit, but they do on our Ultra anyways....these are early model Nova and Chevelle disc brakes...maybe the wheels that were on Chevy's and Nova's were different than what were on Greenbrier wheels??
OIL TEMPERATURES
HEATING COMFORT
Question: I brought Ultra 460 from Phoenix to Mesquite with no problems other than having pretty high oil temperatures, in the 300-325 degree range. I have an external oil cooler, but I don't think it's doing the job. Any recommendations for a good replacement?
Also what about a propane fired heater that I can use while driving? I currently have 2 air-conditioners, but no heat. I don't like driving with a cold nose, but I REALLY don't like driving while ON FIRE !
Answer: Your oil temps need to be in the 220-250 range with conventional multiple viscosity oils and 220 to 300 degrees with synthetics. Ideally the oil temp should remain in the 220 to 240 degree range with any oil.
Almost any external oil cooler will work if it is exposed to the ambient air flow - so location is important I chose to put mine in the right rear fender well. It is a B&M - 11x11x1.5 inch plate type cooler with a 10 inch electric fan. The fan is necessary due to the poor air circulation in the fender well. The plate type, because of possible damage from debris thrown up by the tire. Other locations I have seen are in the inlet air stream in the right engine air intake, under the transmission cross mount, and in the back of the closet with ducting to the outside.
A 2nd Corvair oil cooler can be mounted on the engine in addition to the one already there. There is room for a total of 16 plates - so two early folded fins, two eight-plates or a 12-plate and a 3-plate will fit. Of course, the sheet metal shrouds will have to be modified to accomodate the extra cooler. The extra cooler is worth about 15 degrees of oil temperature.
The standard propane heater can be used underway, although the pilot does tend to blow-out in gusty conditions. I have seen small catalytic heaters mounted under the coffee bar between the seats. Be sure if you use an unvented heater, it has an oxygen depletion sensor on it. I think a carbon monoxide sensor is a must. Mine is a Kiddie digital mounted on the end of the bookcase.
I find the engine heat is sufficient for most conditions. If you are running stock Corvair exhaust logs and lower shrouds, you will have more heat than you can live with. I have headers on Beau and with the lower shrouds but no air doors, I find we can maintain a 30-degree differential in ambient and inside temperature when cruising at 60 mph using just engine heat. This is sufficient for most of our travels. We have an electric throw for Roy and the cats on those sub-40 degree mornings.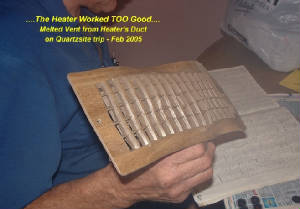 Answer: We're proof that the Ultra's engine will throw out alot of heat ! - and that ya gotta use METAL vents - haha. All this heat was great for the bedroom, but didn't reach way up front. After the vent-melting episode, our shrouds were removed and are off all all year long and our exhaust manifolds have been reversed - and we just use blankies for our legs and laps ... and bundle up like Eskimos!! ... of course here in the desert, we don't get the extreme cold.
SWAYING:
We had trouble with Ultra 293 SWAYING. We have light truck tires on all fours - and had 55 pounds of pressure in each one. Jim Davis (Ultra 388) suggested we lower the pressure in the 2 front tires to 35 pounds -- and by golly, the difference was immediate and amazing!! Of course, we still get pulled and pushed by the big truck winds, but now at least Betsy isn't nervous and shrieking the entire trip! Thank you, Jim.